Sync environments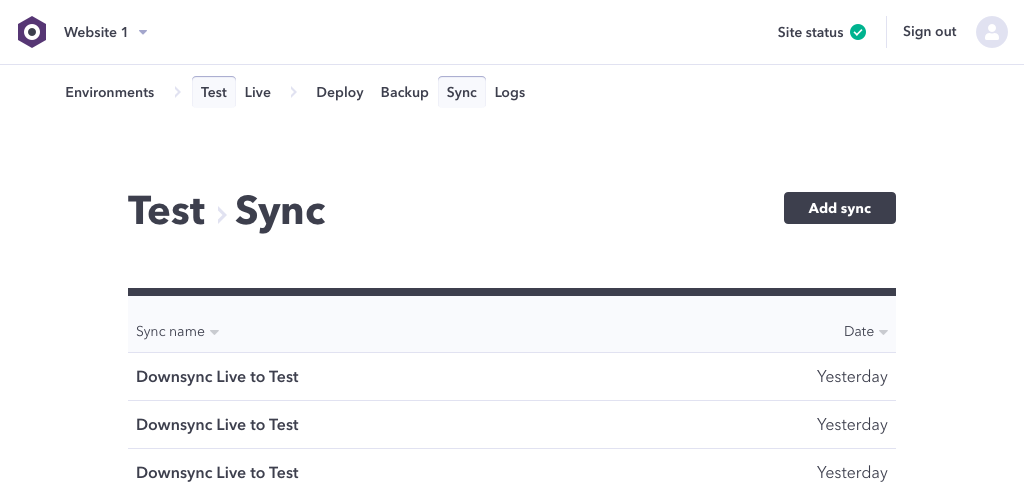 The Synchronizations page is used to migrate the database and files across environments. This is useful in scenarios where you may stage content or assets in UAT and wish to then replace them in Production, or when you wish to refresh UAT with the current Production database or files.
Accessing syncs
From the WebOps Dashboard select your desired site to load the Environments page. As site syncs are specific to each Environment, you will see a Sync link under each. Follow the desired environment's sync link to access the Sync page.
The Sync overview page provides
The listing of all the executed syncs of the site environment
The source of the sync
What was synced, either database or database and files
When the sync was executed
Sync details are available for each sync by selecting it from the list.
Creating a synchronization
From the Sync overview select Add sync.
The dialog will inform you on the source and the target environment the sync will take place on and provide you an option to include just the database or the database and files.
Warning: this process will replace the source with the target, ensure this is truly your desired outcome.
With the desired options confirmed, the sync operation will be scheduled and executed momentarily. Once complete, you will see the sync in your sync listings.