Back up an environment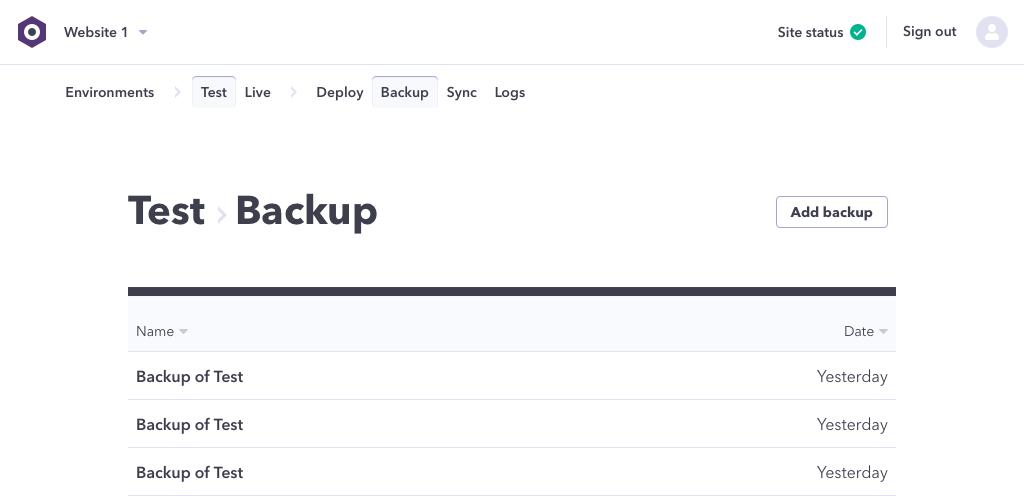 WebOps will automatically take and store backups on your behalf, but you are also able to schedule backups manually. A site backups can contain just the database or the database and the files. The Backups page is used to manage your site's backups.
Select a site
From the WebOps Dashboard select your desired site to load the Environments page.
Select an environment
As site backups are specific to an Environment, you will see a Backups link under each environment listed. Click the desired environment's Backup link to access the Backups page.
Alternatively, if you already have an environment selected, you can navigate to the Backups page via the "Backup" item in the main nav at the top of the page.
The Backups overview page provides:
a listing of all the current backups of the site environment
the contents of the backup
whether the backup is Automatic or Manual
when the backup was executed
Backup details, including the ability to download the backup, are available for each backup by selecting it from the list.
Click Add Backup.
From the Backups overview click Add Backup.
The dialog will inform you which environment the backup will take place on and provide you an option to include just the database or both the database and files.
With the desired options confirmed, the backup operation will be scheduled and executed momentarily. Once complete, you will see the backup in your backup listings.