Quick to install
Point our crawler at your site and let it index your content. When complete, add a snippet to your site and your search is ready.
Easy to use
Our intuitive interface lets you easily review analytics and customize results to direct your users where they need to go.
Powerful results
OnPoint Search is built for enterprise sites with high volumes of traffic. It's a perfect replacement for Google Search Appliance.
Easy to use, simple to maintain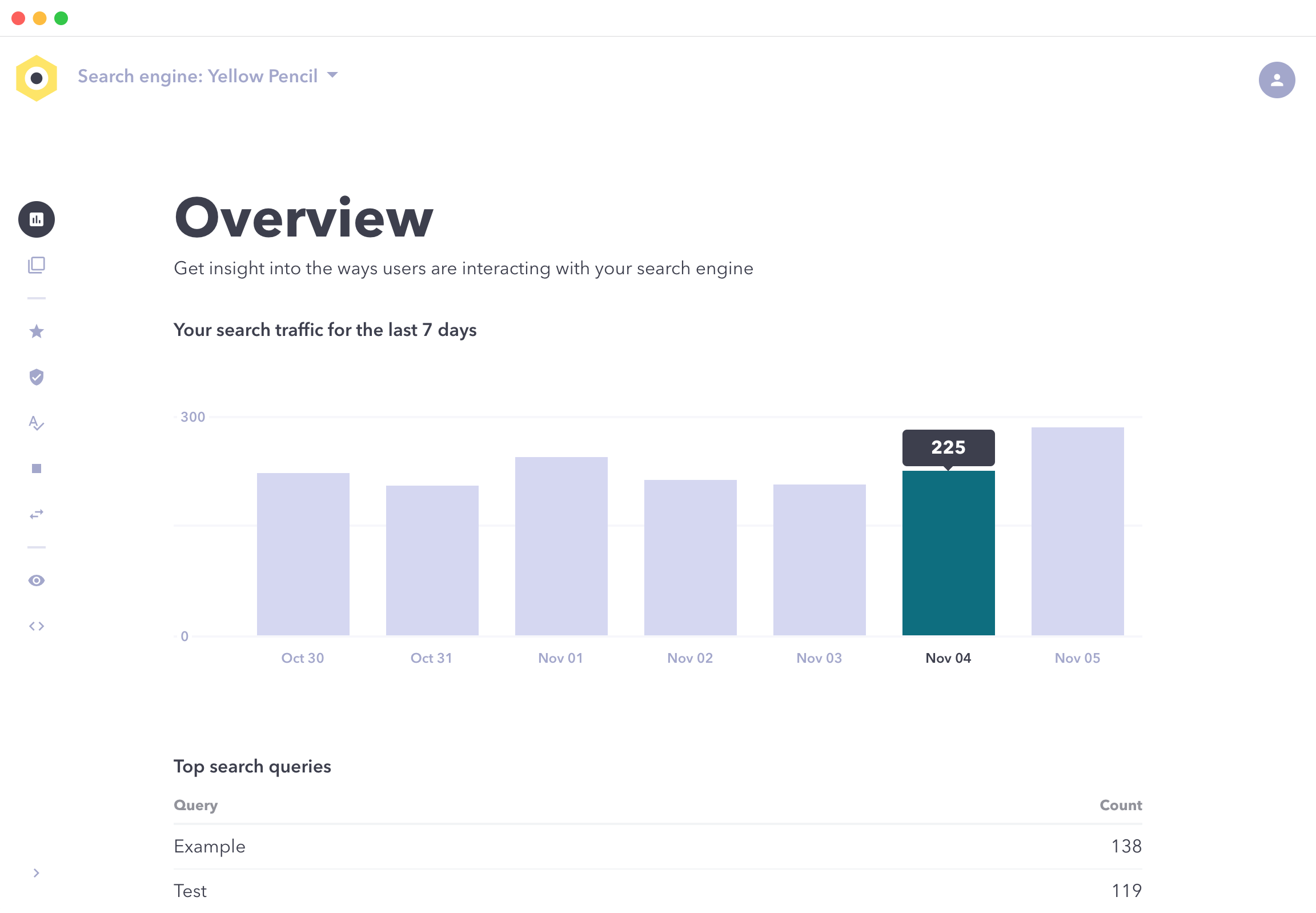 Get OnPoint Search working right away
No servers to set up. No apps to install. And since OnPoint operates in the cloud, it integrates with any web platform.
Simple and powerful integration tools
No need for ten-kilogram manuals. A simple interface and API lets you truly unlock the power of open source.
The tools you need to connect visitors to your content
Make data-driven improvements
Improve the findability of your content with reports and search analytics. Find the content that users can't, and make it discoverable.
Customize Search to fit your site
Tailor OnPoint Search's behaviour to fit your business. Close the gap between your content and the words your visitors use every day.
Index your site automatically
or with a click
Crawl your content when you want
Point our web crawler at your homepage and let it find and index all your content. Run new crawls with a click of your mouse, or schedule them to run at a predetermined time.
Improve results with existing metadata
Our crawler pulls any structured metadata about a page into the search index, letting OnPoint know what your content is really about. It even pulls metadata from Microsoft Word and Adobe PDF files.
Control what users can and can't see
Use our blacklist and whitelist features to control which parts of your site OnPoint's crawler sees. Basic access authentication lets you index password-protected content without making it public.
By Canadians,
from Canada
Hosted in Canada
All your data stays in Canada. Nothing goes across the border. And nothing goes anywhere else unless you say so.
Secure & private
We comply with all Canadian privacy laws and regulations, considered some of the strongest in the world.
Prices
Basic
Plus (Most Popular)
Premium
Price
$250

CAD / month*

$500

CAD / month*

$1000

CAD / month*

Documents / pages indexed per month
15,000

Pages indexed/month

50,000

Pages indexed/month

150,000

Pages indexed/month

Searches / queries per month
1,000

Queries/month

3,000

Queries/month

7,000

Queries/month

Auto crawls

Auto crawls

Auto crawls

Auto crawls

Engines
1

Engine

3

Engines

5

Engines

Manual crawls

Manual crawls

Manual crawls

Manual crawls

Training
Documentation
Documentation
Dedicated onboarding
specialist
Faceted search

Faceted search

Faceted search

Faceted search

Google Analytics integration

Google Analytics integration

Google Analytics integration

Google Analytics integration

API Access

API Access

API Access

API Access

Intuitive dashboard

Intuitive dashboard

Intuitive dashboard

Intuitive dashboard

Results control

Results control

Results control

Results control

SLA

SLA

SLA

SLA

Autocomplete

Autocomplete

Autocomplete

Autocomplete

Fixes misspellings

Fixes misspellings

Fixes misspellings

Fixes misspellings

Bigram correction

Bigram correction

Bigram correction

Bigram correction

Site crawler

Site crawler

Site crawler

Site crawler

Synonyms

Synonyms

Synonyms

Synonyms

Document indexing

Document indexing

Document indexing

Document indexing

Support
Email Support

Email Support

Email Support

Email Support

Priority Email Support

Priority Email Support
Thousands of people search with OnPoint Search every day